Infrastructure

ECE has been on the forefront of assisting utility departments in the Mid-Atlantic region in studying, evaluating and rehabilitating aging infrastructure. We assist utility clients as they assess and evaluate assets to enable them to allocate resources effectively. Our asset management services provide clients with tools that support sound financial planning and efficient resource allocation for maximum long-term benefit. Part of our infrastructure services includes Sewer System Evaluation Studies to determine the condition of wastewater collection systems and provide recommendations for the rehabilitation and restoration of aging systems.
Asset Management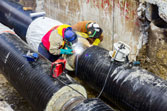 Our professional staff has experience inspecting water and sewer facilities to develop condition assessment strategies using the industry's best practice methods. ECE's engineers assist utility clients in the Mid-Atlantic region to assess and evaluate assets, which enables allocation of resources effectively. The goal of our asset management efforts is to provide clients with a prioritization methodology that helps in financial planning and resource allocation for maximum long term benefit. Our efforts include pipe evaluation, combined sewer management, infiltration and inflow (I/I) studies, and combined sewer overflow (CSO) studies.
Sewer System Evaluation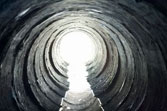 The majority of ECE's engineers are NASSCO PACP, MACP, AND LACP certified. They are knowledgable and have experience in assisting utility clients in conduting Sewer Systems Evaluation Surveys (SSES), manhole inspections, CCTV review, sewer rehabilitation review and recommendations, and smoke and dye testings.